Dog Boarding Services In Washington DC – The Duncan Dog Hotel & Day Spa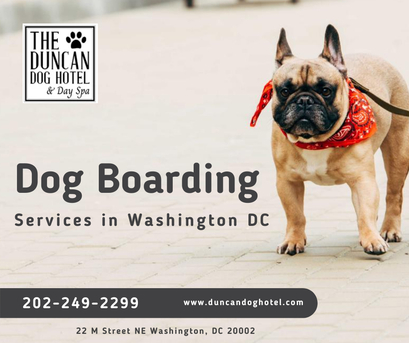 Description
Does your dog sleep with you? or in a crate? Let us know your preference and we can make sure their care is consistent with what they get at home.
A DUNCAN staffer is on duty all night long to care and check on our guests (and maybe snuggle a bit).
​Guests staying over 5 nights receive a free bath before pick up.
Additional services are available including a daily walk around the neighborhood or a visit to the local dog park.
Professional, insured caretakers make sure your dog has a vacation as great as yours.
If you have any questions please contact us below given:
Phone: 202-249-2299
Email: info@duncandoghotel.com
Website: https://duncandoghotel.com/
Facebook: https://www.facebook.com/TheDuncanDC
Twitter: https://twitter.com/TDuncandc
Address: 22 M Street NE Washington, DC 20002