Used vibro hammer OVR 70SG to work on a crane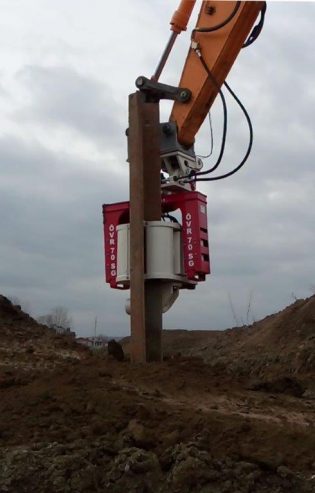 Description
Used vibro hammer OVR 70SG with the universal. lateral clamp excavator mounted and powered from excavators hydraulics. Year of manufacture 2017.
It's possible to buy the new machin. Please of contact.
(For further information, please contact us)
The delivery includes:
OVR 70 SG – vibro hammer
SCN 60 – universal clamp
lateral clamp
manual control system
Technical specification:
Eccentric moment – 7,4 kgm
Maximum centrifugal forces – 511 kN
Maximum amplitude – 10 mm
Total weight – 2870 kg
Vibratory hammers are used for driving: sheet piles, casing piles, H-beams, I-beams, steel piles and tubes. This unit can drive vinyl sheet piles as well.
Contact
tel. +48 603 300 610
fax. +48 22 499 46 80
We offer wide range of machines – for further information, please contact us.
Our machines and devices are available for rental too.